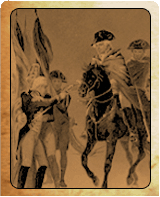 Colonel Johann Rall
Johann Gottlieb Rall (ca. 1726 - December 26, 1776 ) was a German colonel in command of Hessian troops in Trenton, New Jersey.
Early life and career
Rall was probably born as a so-called "soldier child" ca. 1725. He was a son of Captain Joachim Rall from Stralsund, who served in the regiment of Major General Donop. The first mention of Johann Rall was as a new cadet of the same regiment on 1 March 1740, commanded at this time by Colonel Prince Casimir von Isenburg of Isenburg-Birstein.
He was promoted to warrant officer on 25 July 1741; to second lieutenant on 28 August 1745; and to captain on 10 May 1753. Rall was promoted to major on 7 May 1760, under Major General Bischhausen and transferred, in January 1763, into the Stein garrison regiment, where he was appointed lieutenant colonel. On 22 April 1771, he was transferred to the Mansbach Infantry Regiment as a colonel. He became commander of the regiment in January 1772.
During this time, Rall fought in the War of the Austrian Succession and participated in campaigns in Bavaria, on the Rhine, in the Netherlands, and served in Scotland. He fought in the Seven Years' War (also called the French and Indian War) and was involved in many battles. From September 1771 until August 1772, he was in Russia and fought for Catherine the Great under Count Orlov in the Fourth Russo-Turkish War.
The American Revolution
By 1776, Rall belonged to the infantry regiment of the 1st Division under General Phillip Leopold von Heister and commanded approximately 1,200 men fighting for Great Britain in the American Revolutionary War. He was at the Battle of Brooklyn at Flatbush, the Battle of White Plains, the Battle of Long Island, and figured prominently in the Battle of Trenton.
General George Washington crossed the Delaware River with his troops on the way to Trenton, New Jersey. The Hessian regiments, camped in and around Trenton, were attacked and decisively defeated by the American Continental Army. The Hessians had supposedly let their guard down to celebrate the Christmas holiday, and Rall himself was misled by John Honeyman, a spy of Washington who convincingly posed as a loyalist. According to one account, Rall was busy playing cards the night before the attack at the home of Trenton merchant Abraham Hunt when he was handed a note from a local Loyalist who'd seen Washington's forces gathering. He placed the note in his vest without bothering to read it and went back to his card game. The following morning Rall was woken by a junior officer and informed of the attack. Rall took command and ordered a counter-attack by bayonets that was scattered by American sniping and artillery fire. During this action Rall was wounded slightly.
The situation deteriorating, and still under fire, Rall ordered his men to withdraw to an orchard at the town's edge. Shortly after, he was wounded a second time, removed to a nearby church, and then to his headquarters. Following the battle both General Washington and General Greene visited Rall at his headquarters, and through an interpreter Rall secured a promise that his captured men would be treated humanely. Rall died the following day, and was buried in the cemetery of the First Presbyterian Church in Trenton on East State Street. The worn inscription on his tombstone reads, "Here lies Colonel Rall, for him, all is over".
Biographies | Colonel Johann Rall | NEXT: Count Carl Emilius von Donop